Meet the LEAPFrogs family:
Building a strong support system around families and little ones for the last 17 years.
Message from founders pictures from founders
The LEAPFamily has been supporting child development for the past 17 years.
In this time, we're privileged to have transformed over 6,000 children to overcoming their learning challenges!
Our family's love and dedication to each individual child has helped us achieve a 100% success rate with our kids.
At Leapfrogs, we're not just therapists, we're family.
We believe that the only way to help a child develop and progress is by building a loving
environment and strong support system around each child.
Meet each member of our family below!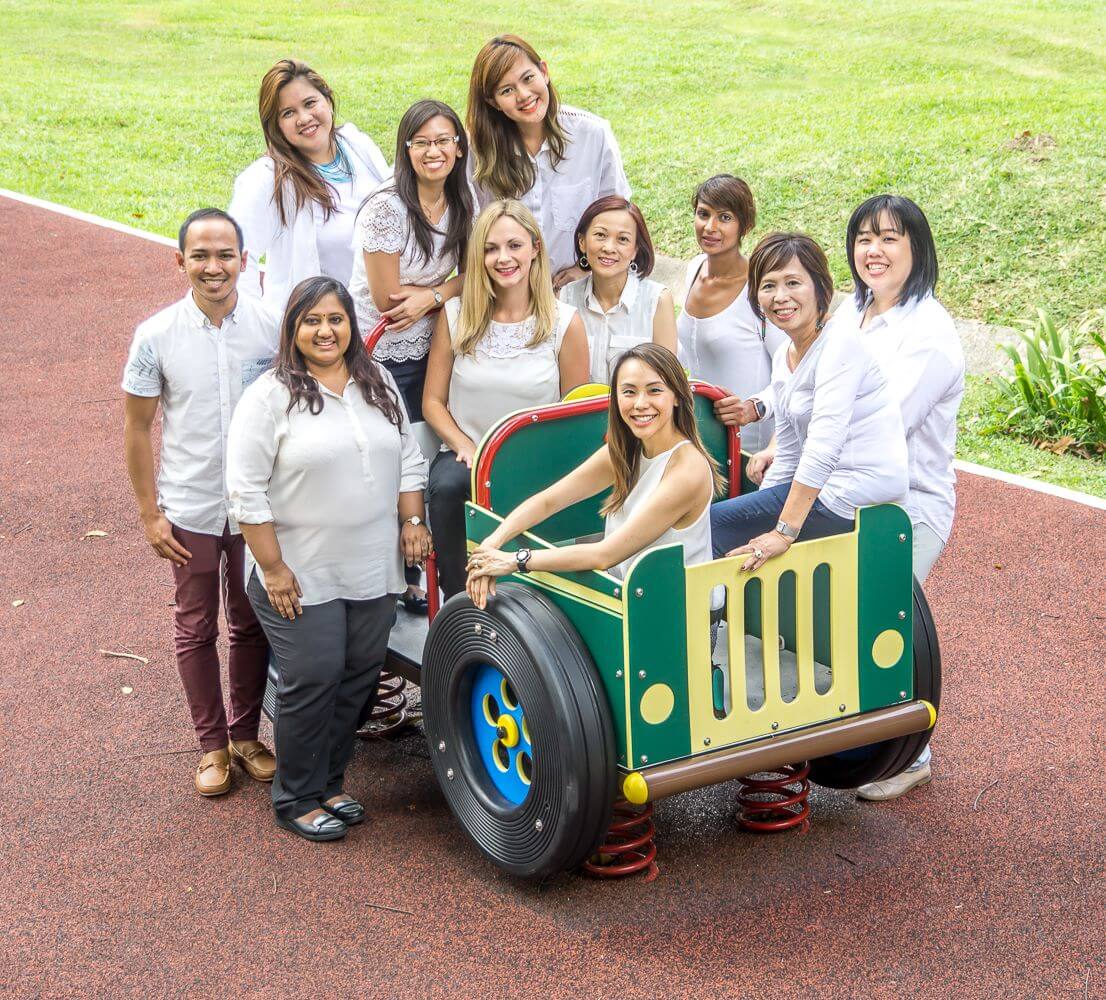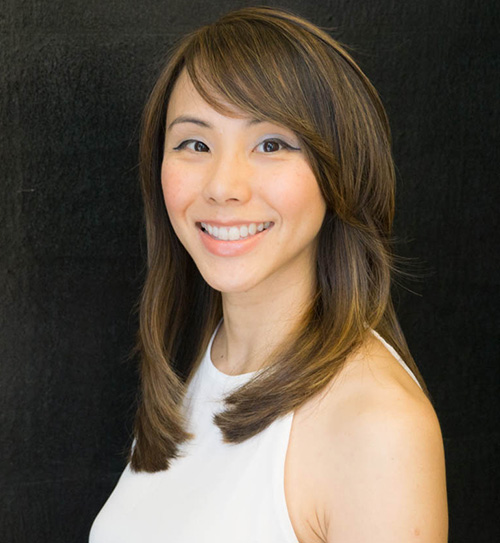 MICHELLE THAM
Founder / Clinical Director
Speech and Language Therapist
Michelle is a dynamic, creative, and caring therapist. She is the principal co-founder of Leapfrogs and has been the head of the Speech Team since 2005. She's been a sought-after speech therapist for over 16 years and graduated from the University of Queensland in Australia with top Honors.
In Singapore, she's worked with KK Women's and Children's hospital, was a board member of the additional qualification panels, and supervisor registered with the Allied Health Professional Council, and supervisor for the NUS Masters of Speech Pathology.
Her passion and experience has made Michelle a frequent panel expert and specialist for talks and workshops on learning challenges. She has also led specialist teams of volunteers in Cambodia with the Singapore International Foundation.
Michelle is especially rewarded by her work with and has an interest in children with complex learning challenges such as specific language impairment, learning disability, social challenges, and executive function disorder. And is inspired by how much students innately want to succeed.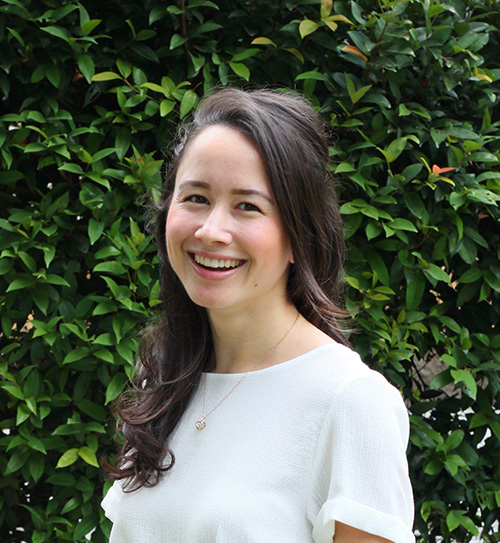 ALEXANDRA LEE
Speech and Language Therapist
Being an animated and enthusiastic individual, Alex has always been drawn to working with young children. Of British and Chinese heritage, Alex received her Bachelor in Science – Speech Pathology from Curtin University, Western Australia. Alex has also received professional training in various areas including; Hanen – It takes two to talk, Visualising and Verbalizing (Lindamood-Bell, USA) and Basic Learn to Play to name a few.
Alex has worked with children from various backgrounds with a range of difficulties and impairments for over three years. These include Autism, difficulties with articulation, speech and language impairments, stammering and phonological awareness. Having worked in a range of settings; community clinics, rehabilitative wards, mainstream schools and private clinics, Alex is competent in executing both assessment and intervention for children.
Alex believes in working collaboratively with the child, family and other professionals in developing a family-centered approach, so as to help each child achieve the goals they set out in therapy.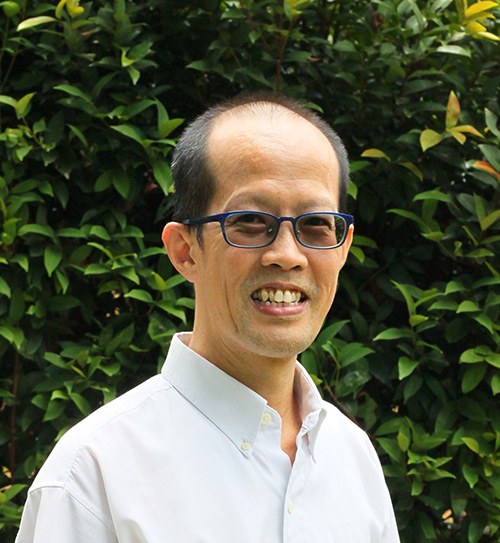 ARNOLD CHUA
Educational Therapist
Arnold has been an Early Interventionist for more than 10 years, teaching children with learning difficulties such as autism, global developmental delay, and speech and language delay. With a Master Degree in Special Education from National Institute of Education, Arnold is a frequent contributor to research within the field.
Arnold has conducted several workshops for both parents and teachers in mainstream and special schools in Singapore. As an advocator for special education, he has contributed his opinions on social media to advocate for the inclusion of people with special needs in the areas of education and employment.
Wanting to fill the gap between young children and adults, Arnold is beginning to see the importance to teach older children as well. He is currently an Educational Therapist teaching both young children within the Early Intervention Program (EIP) and older children who have learning difficulties in mainstream schools.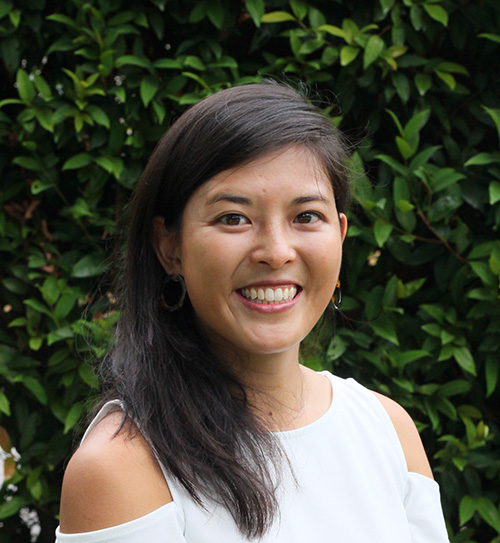 CHLOE CHEUNG
Speech and Language Therapist
Chloe is a Speech and Language Therapist from New Zealand. She attended the University of Auckland, where she completed a Master of Speech Language Therapy Practice degree in 2010.
Following graduation, Chloe was involved in a study investigating hearing and auditory processing in children before going on to work at a specialist therapy clinic for three years. There she was engaged with children with a wide range of hearing and communication difficulties including; hearing loss, Global Developmental Delay, speech and language delay and Autism.
In 2015, Chloe moved to Singapore and worked at an international special school teaching and providing speech and language support. This role gave Chloe the opportunity to work closely with students aged three to twenty-one with complex special needs. Chloe is passionate about working with children and enjoys customising her therapy approach to best suit the needs and interests of the child to help them reach their potential.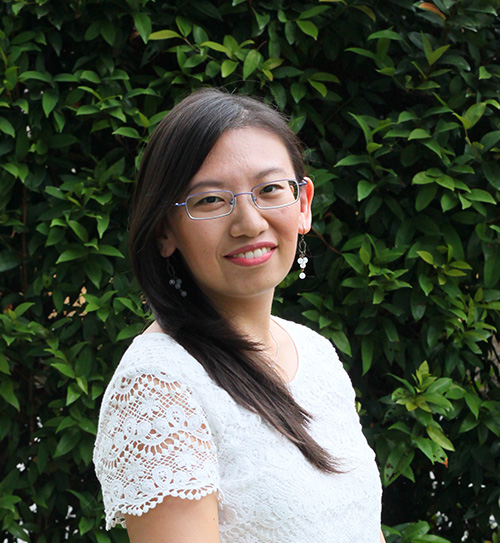 GERALDINE CHONG
Speech and Language Therapist
Geraldine has worked with children for more than 10 years. She loves seeing how each child progresses in their own little ways.
Before graduating from the University of Sydney, she worked with children and adults at special and mainstream schools, the school clinic, hospitals, health centres, rural areas and India.
Upon graduation, she set up the Speech Therapy department at Fei Yue EIPIC and worked with children who have Autism, Global Developmental Delay, speech and language delay. Geraldine moved on to Leapfrogs to gain experience with older children. She is now experienced in working with young children and adolescents who have speech and language delays, Autism, ADHD, Global Developmental Delay, learning disorders, selective mutism, social communication, feeding difficulties and executive functioning delays.
Geraldine is an Allied Health Professions Supervisor, does mentoring at Leapfrogs and is a field supervisor for the NUS Speech Therapy Masters Program. She is also a mentor to Singaporean graduates from her University.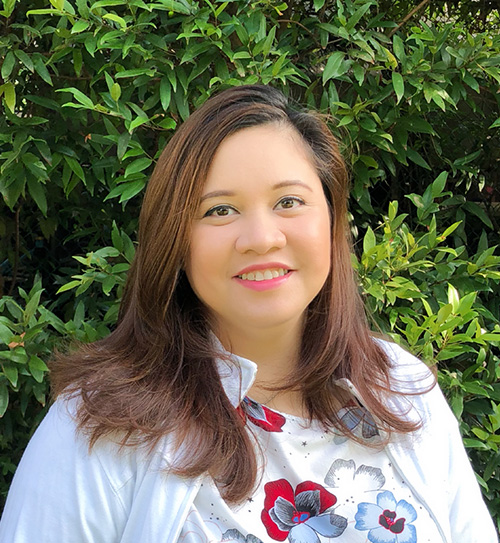 KHRISTINE DEL ROSARIO
Occupational Therapist
Khristine is an OT practicing for more than 15 years in both the Philippines and Singapore. As a student OT, she discovered her special interest in pediatrics and decided to pursue this after receiving her Bachelor of Science degree in Occupational Therapy. She has worked with a diverse special needs population.
In Singapore, she has worked as the Programme Head and Senior Occupational Therapist at a VWO and was a field mentor in the supervised practicum for an Early Childhood Intervention (Special Needs) diploma for two consecutive terms before joining Leapfrogs' in 2009.
In her quest to better understand the underlying cause of the behavior and sensory processing challenges of the children she's working with, she became certified in Sensory Integration in 2012. She believes that learning should never cease and that there are new endeavors that need to be discovered as reflected in the eyes of the children she works with.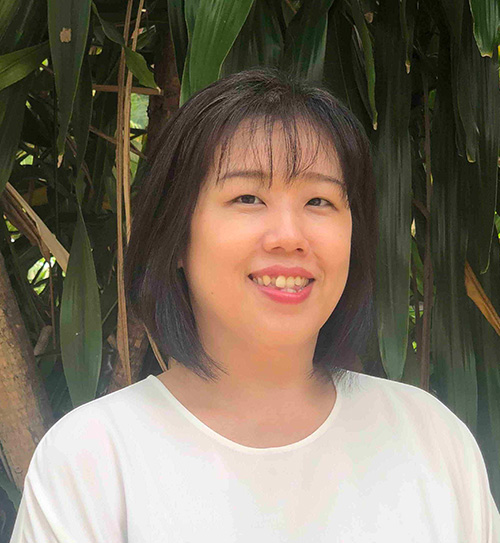 MANDY LOW
Educational Therapist
It had always been Mandy's aspiration to work with young children and she started her teaching journey in Rainbow Centre almost 20 years ago. Teaching children as young as 2 months old with Down Syndrome, Cerebral Palsy, developmental delay and Autism ignited her interest in early intervention and continues to fuel her till this day.
She started Leapfrogs Early Intervention Program 6 years ago and strongly believes that the earlier the child gets help, the better their learning outcomes will be. She also runs social groups to support her school-aged clients in managing their emotional issues and handling social situations which they encounter at school. Mandy is also currently a mentor at Leapfrogs and conducts parent workshops.
Mandy holds a Bachelor in Special Education from Flinders University (Australia) and a Diploma in Special Education (NIE). She is proficient in PECS® ,TEACCH® Autism Program, Social Thinking®, Handwriting Without Tears®, Search and Teach© and Feurstein Instrumental Enrichment (FIE) program.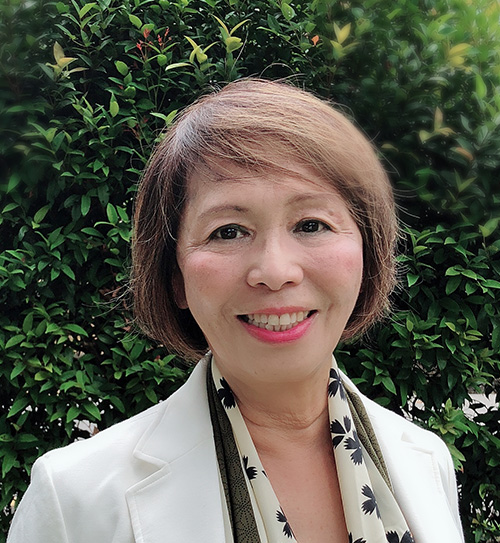 MAY THAM
Founder / Clinical Director
Educational Therapist
May is co-founder of Leapfrogs and the head of the Educational Therapy Team. She has over 20 years of experience in education.
Prior to Leapfrogs, she volunteered at children's welfare homes, pre-schools and was the principal of a Montessori childcare centre; she also taught at the Dyslexia Association of Singapore.
As her interest in working with children with special learning needs grew, she decided to further her studies in Special Education with Flinders University, Australia. May is trained in the Feuerstein Method and became a certified member of International Association of Counsellors and Therapists (USA).
May knows that children, regardless of innate abilities and learning styles, need a collection of fundamental skills for success in school and life. With the right approach and understanding, she believes that children can excel in learning and be their own advocate when faced with challenges in learning.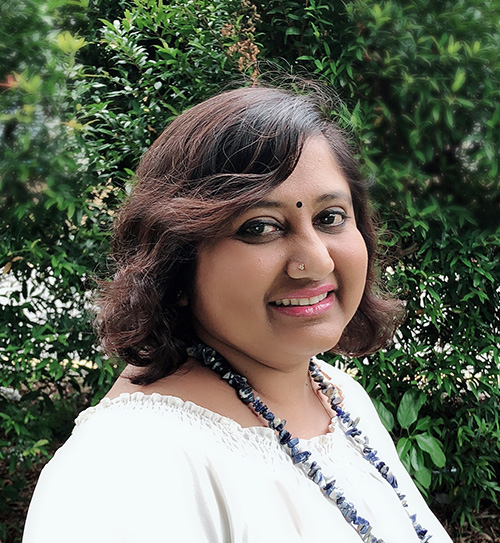 A. SHANTHI
Educational Therapist
Shanthi has a rich background in early childhood education with over 10years experience and her inspiration to move to the Special education field came while she worked in MINDS.
Her passion and interest lies in working with school-aged children. She runs social and dynamic thinking groups to develop executive functions, literacy, comprehension, character development, social competence and classroom learning skills. She establishes meaningful relationships and encourages the children to realize their maximum potential. She interchanges her roles as a teacher, mentor and friend with ease.
She spearheaded the Outreach Program in 2009 and has collaborated with many preschools and childcare centers to conduct teacher and parent training workshops.
Shanthi has acquired the Advance Diploma in Early Childhood Intervention (Special Needs) from Ngee Ann Polytechnic and the Bachelors in Arts (Honours) in Childhood Studies and Guidance and Counselling degree from Northumbria University (UK). She has added value to her professional development through various overseas training certifications.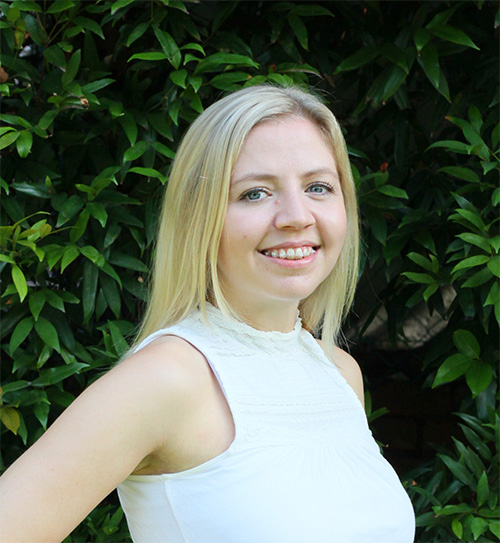 YVONNE MCEVOY
Speech and Language Therapist
Yvonne is a calm and encouraging Speech and Language Therapist with a passion for helping children to reach their potential. Yvonne realizes that effective communication is an essential key to forming relationships and accessing the world around us. She believes in empowering parents by giving them practical, take-home advice to maximize therapy effectiveness.
In 2013, Yvonne graduated with an honours degree in Speech and Language Therapy from University College Cork, Ireland. Yvonne's commitment to continued professional development has resulted in qualifications and certifications in Hanen – More Than Words, Basic Learn to Play, Sensory Processing and Executive Functioning , PROMPT, PECS amongst others.
She has been fortunate to gain valuable experience working in both adult and paediatric settings. Yvonne has the passion and experience in working with children with a range of presentations including; speech and language delay/disorder, social communication difficulties, hearing impairment, Autism, Global Developmental Delay, Cerebral Palsy and intellectual disability.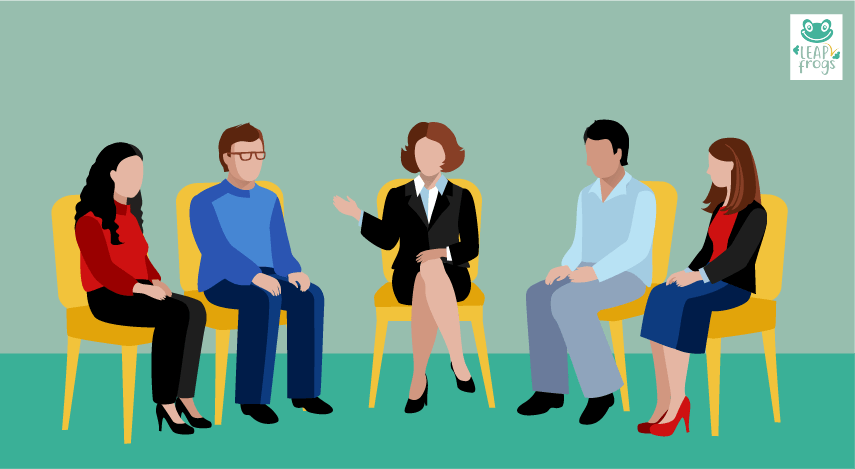 The LEAPFrogs family would love to meet and support you and your child!
Parents, at LEAPFrogs, we're not just therapists, we're family.
We believe that the only way to help a child develop and progress is by building a loving environment and strong support system around each child.
That means that we're always here to help, even when you honestly just need a listening ear.
Leave us a message by dropping us your details below, and we'll personally drop you a call/message to find out more about how we can support you.
 Or schedule a consultation with you at our centre if you'd like to speak to us in person.