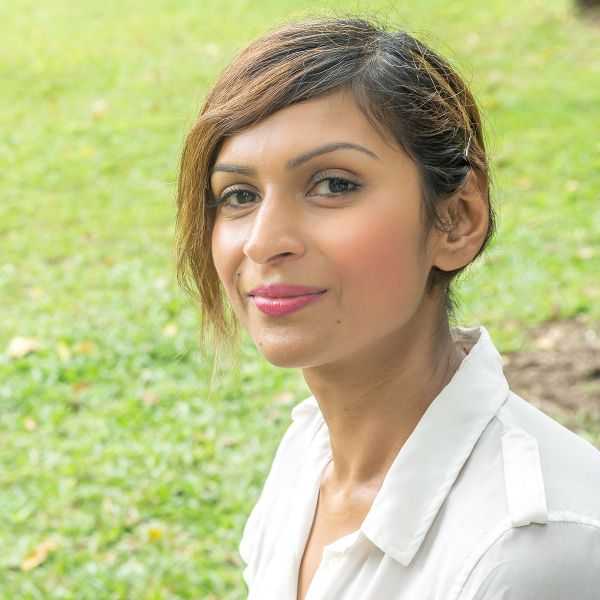 Sharon Rodrigues
Speech Therapist
BS Speech Language Pathology
MS Speech Pathology
---
Teaching is more than imparting knowledge, it is inspiring change. Learning is more than absorbing facts, it is acquiring understanding.

- William Arthur Ward
I cherish the creativity, energy, resilience, laughter and unpredictability children bring into our lives. Helping kids achieve their full potential, and bringing a feel of comfort and happiness to them and their families, not only brings a huge smile to my face, but it is also one of the best intrinsic reward I can ever receive!
Sharon's journey into the speech therapy field began with a very close to home encounter. Her passion for the field developed when she witnessed a speech therapist work with her 4-year-old cousin who was diagnosed with Mitochondrial disorder. Seeing the bond develop between her cousin and the therapist, and the progress he was making with every step; It was then, at that moment, that Sharon decided she wanted to become a Speech Therapist. Determined and filled with passion, she studied at Southern Illinois University Edwardsville, USA, (2003-2007), pursuing a Bachelor of Science in Speech Language Pathology and Audiology, with a minor in Psychology. She continued her studies in the master program at Brooklyn College, City University of New York. Since graduating with her Masters degree and obtaining her Speech Pathology license to practice in New York, Sharon worked full time in Early Intervention (birth to 3 years old) in NY for 4 years.

In 2013 she ventured to Dubai and joined an advanced preschool, the Centre for Children on the Spectrum, supervising and providing support to Speech Therapist Assistants, as well as working individually and in groups of children with Autism and with various language delay issues. Sharon believes that working with special needs children in different parts of the world has allowed her to develop not only her critical thinking and team collaboration skills, but also the principles of reflective thinking and practice – all of which she believes will aid in continuing to develop her analytical and problem solving mind. She understands the importance of verbal and non-verbal communication skills in empowering an individual. Without that understanding, activities can provoke intense frustration, challenging behaviors and isolation, and acts as a barrier to achievement and happiness for the child and for the family. Additionally, Sharon believes in continuing education, and to be knowledgeable in the latest innovations in speech therapy to provide the best service to her clients.
Masters of Science in Speech Language Pathology
Currently holding a NYS professional License to practice speech pathology in the state of NY, U.S.A., in addition to Dubai Healthcare City professional license to practice speech pathology in Dubai, UAE.
Certificate of Clinical Competence – ASHA (American Speech Language Hearing Association)
Teacher of Students with Speech Language Disabilities (TSSLD) Certified
Applied Behavior Analysis: Introductory Trained
Michelle Garcia Winner "Social Thinking" Trained
Picture Exchange Communication System (PECS) Trained
Who we are
"An understanding heart is everything in a teacher, and cannot be esteemed highly enough....
The curriculum is so much necessary raw material,
but warmth is the vital element for the growing plant and for the soul of the child."
- Carl Jung (1875 - 1961)